Welcome to our site!
Club President:
Janice Craddock Bowen

Club Purpose:
The purpose of this club is to delve into the study of geology, mineralogy, and the lapidary arts. We also strive to stimulate interest in the searching and collecting of minerals and fossils.
Other Club Information:
Meeting Information:
Meetings are held on the fourth Tuesday of every month. Social time starts at 7pm on meeting days, and the actual meeting itself starts at 7:30pm, unless stated otherwise in the newsletter.
Membership Dues:
Annual memberships are due January 1st. One Adult is $20. Family memberships are $30. For more details on membership, please us the contact us page and select
"Get Membership Information"
from the subject drop down menu.
Membership Application:
You can download the membership application form
HERE
. You will also need a hold harmless agreement for yourself & each member joining under you. You can obtain that form by clicking
HERE
. If you have children that will be attending trips, you will need a hold harmless agreement for them as well. You can obtain that form by clicking
HERE
. Simply download the forms, print them out and fill them in. Then at our next scheduled meeting, you can bring them with you along with your membership dues. You need Adobe Acrobat Reader to open this form. If you do not have it, you can download it
free
.
Mailing Address & Physical Club Location:
Please Note:
Our PHYSICAL address is:
3545 Bryan Avenue; Fort Worth, Texas 76110.
Our MAILING address is:
P.O. Box 123975 Fort Worth, Texas 76121-3975

Please send contracts for shows and membership applications to our mailing address (NOT to our physical address!) Thank you!
We're located off of I35. Turn west on Ripy, and proceed four blocks to Bryan Avenue. You'll notice a building with murals painted on it. That is the Fort Worth Gem and Mineral Club. Click
HERE
for full driving directions & map.
MAP: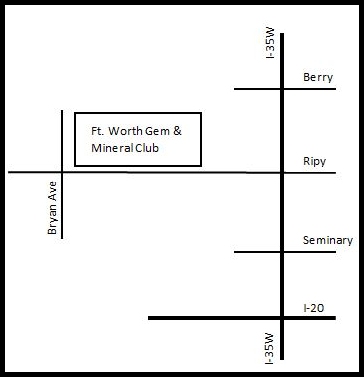 Site Menu
Site News
May 18, 2022 - Home & Newsletter Archive pages have been updated. If you spot something not quite right, please contact me. I welcome those helpful comments!